I have never been much of a fan of single ended amps. I started modding amps with a Valve Junior and no matter what I did to it it always sounded pretty bad. My first build was the Two Stroke single ended amp from Dave Hunter's book and that was way better than the Valve Junior but it eventually evolved into the Sangria.
I had never done a big bottle single ended amp because that seemed to make no sense. The iron would cost a lot and it wouldn't even sound as good as a push pull 6v6 amp. However, after building a ton of smallish push pull amps and despite all my misgivings I decided to try a big bottle single ended amp anyway.
I decided that one of the problems with many single ended amps was just the concept of taking a random preamp and putting it in front of a power tube without regard for the phase inverter and, usually, negative feedback (more on that later). For the basic circuit I went with a single ended plexi design. A Marshall Plexi based single ended amp has obviously been done before but I wanted to do something about what is normally missing as far as phase inverter gain and negative feed back.
I had built other Marshall Plexi based amps like the 6F4Plexi and decided, based on that experience, that the normal channel was not essential. So instead of using a triode for the normal channel I decided to use that triode for a gain stage after the tone stack where the phase inverter would normally be. I also though this stage could be used to return NFB to. So that's basically what I had in mind building this.
Here are some progress pics: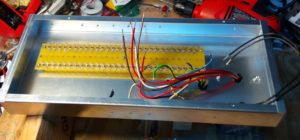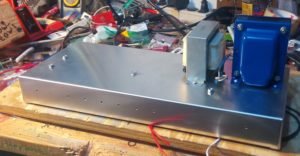 I'm using a bud box for the chassis and it worked out pretty well.
Overall the build came together pretty well. I'm using a Weber WSE15 for the OT and the PT is a Edcor XPWR021 which has a 290v output and gets me around 355vdc rectified at the first node. The tag board I'm using allowed the use of radial filter caps which I've found are a much better deal than axial caps. I'm using some 22uF

and some 47uF
.
Here is the finished product: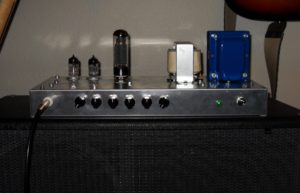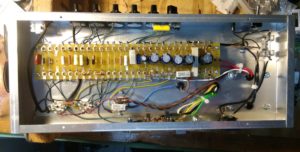 I had done an early schematic and pretty much stuck with it after firing it up and trying it out some. Probably the biggest change I made was decreasing the the first coupling cap from .02 to .0047. The fact that it was better with NFB (like a real Marshall) indicated to me that I was on the right track design-wise. BTW, The negative feedback circuit came from the 5E6 Bassman but I'm using a slightly bigger feedback resistor.
Here is the schematic: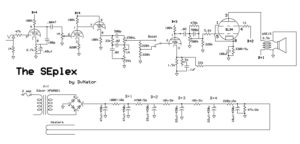 Here is a layout I have been working on. It's basically the layout that I used and it's based on using a universal board like this. There is no switching in this layout.
So despite all the questions I had about building a single ended amp I'm really happy with the way this one came out. Getting good EL34 tones at a reasonable volume is tough and this one sounds pretty good. I think having the triode after the tone stack does allow the power tube to be driven better than many designs that have the tone stack and a master volume directly in front of the power tube. It's probably about 10 watts and it can get loud. I haven't played it with a band but I would guess that it could keep up with a sane drummer.
Here is a clip:

Since doing this clip I have added a small 100pF cap on the first triode going from the plate to the cathode. This trims the very high frequencies a bit. It's on a bunch of different Marshall amps.